Plant Something Weekend
May 19-21, 2017
Have you heard? Maine is planting – from Buckfield to Bridgewater and Whitefield to Winterville, gardeners are digging in the dirt and putting down roots.
Join Estabrook's on May 19th, 20th and 21st for Plant Something Weekend, a celebration of Maine gardening.
Take advantage of the following promotions during the event:
FREE Plant Giveaways
Each day of Plant Something Weekend, the first 100 customers in Yarmouth and first 50 customers in Kennebunk will take home a FREE plant. We're giving away Hydrangea, Weigela, Physocarpus and more.
FREE Seeds for Kids
Gardening is a hobby the whole family can enjoy. Kids can start their own garden with a complimentary packet of seeds (while supplies last).
20% OFF Any 1 Item Coupon
Add a new plant, upgrade your tools, or take home a new piece of pottery at a fraction of the price. Take 20% OFF any (1) item with the following coupon during Plant Something Weekend at Estabrook's: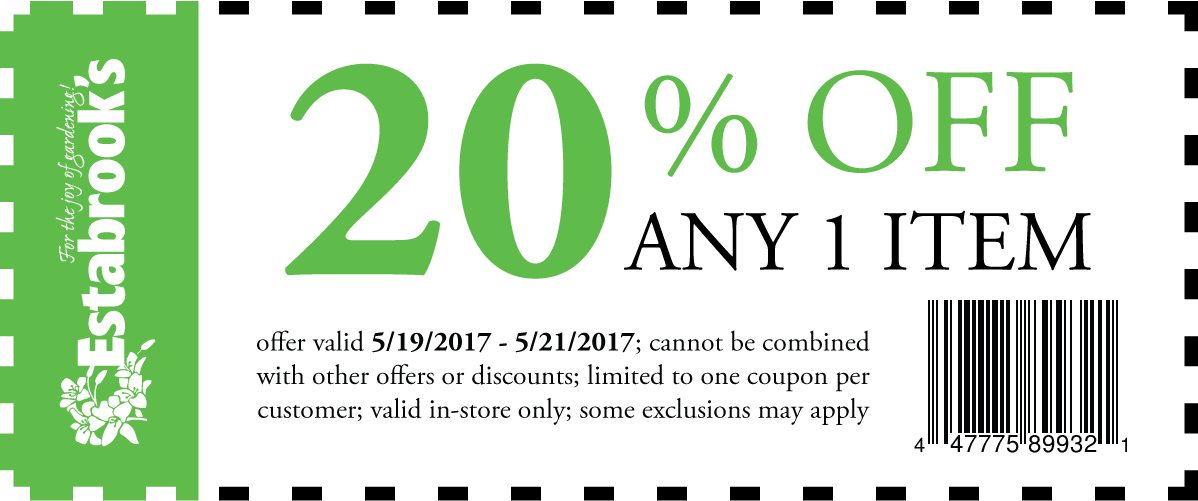 LIVE Radio Broadcast
107.5 Frank FM will be at our Yarmouth location on Saturday, May 20th from 10am to 12pm playing great music and celebrating Maine gardening.
$1,000 Shopping Spree Giveaway
Don't forget to register to win a $1,000 Estabrook's shopping spree! We're accepting entries online and via our mobile app until July 4th.
---
Enjoy all this and much more during Plant Something Weekend at Estabrook's. Plus, don't forget to check in with your other local gardens. We're celebrating gardening all over Maine.
Don't just stand there - Plant Something!